Anonymous coach gives scouting report on Michigan football to Athlon Sports
3 min read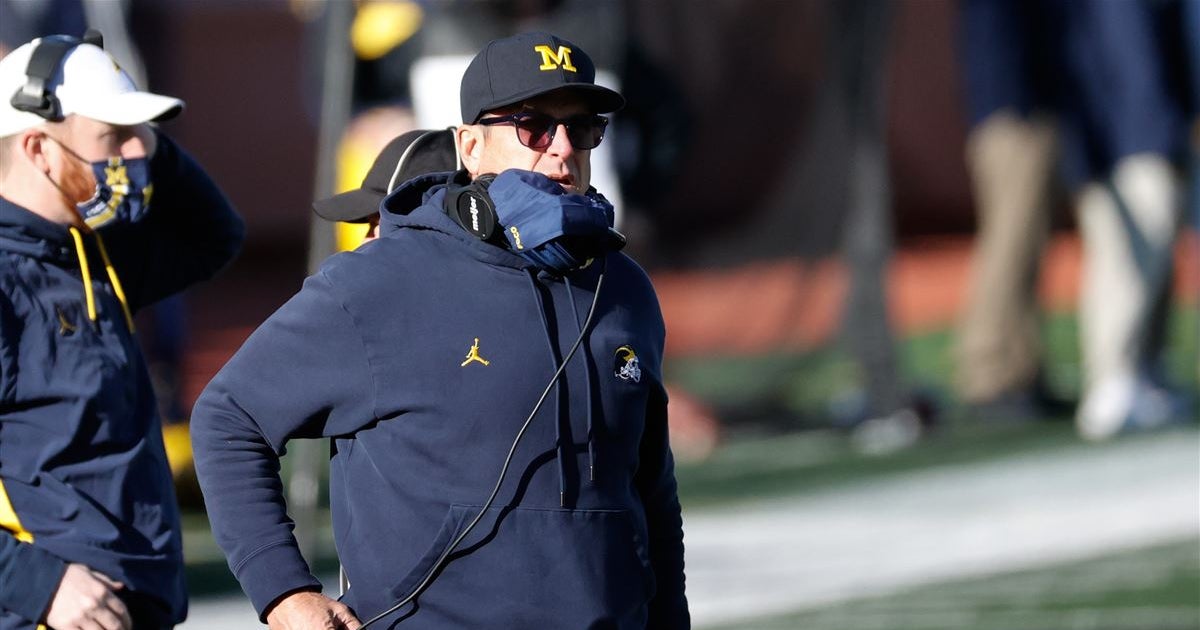 With the college football season around the corner, college football preview magazines are well underway of hitting store shelves across the country. Football fans clamor to see the magazines pop up, as its a yearly reminder of football season on the horizon and gives a good grasp of where fans favorite programs are at headed into the season.
For the Michigan football program, it's been highly publicized what direction the program has been headed after a disastrous 2020 season that was marred with poor play and COVID-19 issues within the program.
In the Wolverines season preview section of Athlon Sports' college football magazine, the outlet was able to speak to an anonymous college football coach to give their honest scouting report and assessment of the Wolverines' program heading into the 2021 season.
The scouting report can be found below:
"If you took the name Michigan off, most coaches in the country would be happy to have the success they've had, happy to have the players on that roster," the coach said. "Most of us wish we could hit nine and 10 wins a year as a baseline. But they're Michigan, so we all expect them to be better. … They look undecided on offense, like there's too many cooks. No one thinks that's the exact offense Josh Gattis wants to be calling. The defense fell apart on them, and now they might go to a more NFL-style 3-4; that's gonna be really interesting to see. … A smart way to look at this program is the quarterback position. When is the last time they've had game-changing QB play? They're overhauling the QB room because they know it's been a weak spot. They recruit really well, byt they still lack top-end speed Ohio State has. I don't think you could call anything they've done under Jim Harbaugh explosive. …When you look at them from outside, you see a successful program pretty much everywhere but on the field against their true peers. That's really what it boils down to. They don't need a complete change, but they have to identify what separates their offensive scheme and their development from the programs they expect to beat. This is a good program. But they're Michigan, so you can't be unremarkable."
Stick with The Michigan Insider for more Michigan football coverage.
Michigan fans can now get exclusive access to The Michigan Insider at a special new price! For a limited time only, we are offering two months of our VIP Subscription to The Michigan Insider for ONE DOLLAR!
That's right, get two months of the No. 1 Michigan sports subscription site cheaper than ever before. There's never been a better time to sign up!
CLICK HERE TO SIGN UP TODAY!
Terms: This deal will end at 11:59 p.m. ET 6/28/2021. This promotion is for new members only. 247Sports.com reserves the right to alter or cancel this promotion at any time. Please write [email protected] with any questions you have. 
Want the latest news on Michigan delivered right to your email? Subscribe to The Michigan Insider newsletter here. It is free and a great way to get daily updates on Michigan football, basketball, baseball, recruiting, and more delivered straight to your inbox
Sign up for FREE text alerts on The Michigan Insider to get breaking news on commitments, decommitments, transfers, injuries, coaching changes, and more with our NEW text alert system available to all registered users and VIP subscribers. Click Here to become a FREE registered user and Click Here if you are already a VIP subscriber then follow these directions to set up your text alerts.